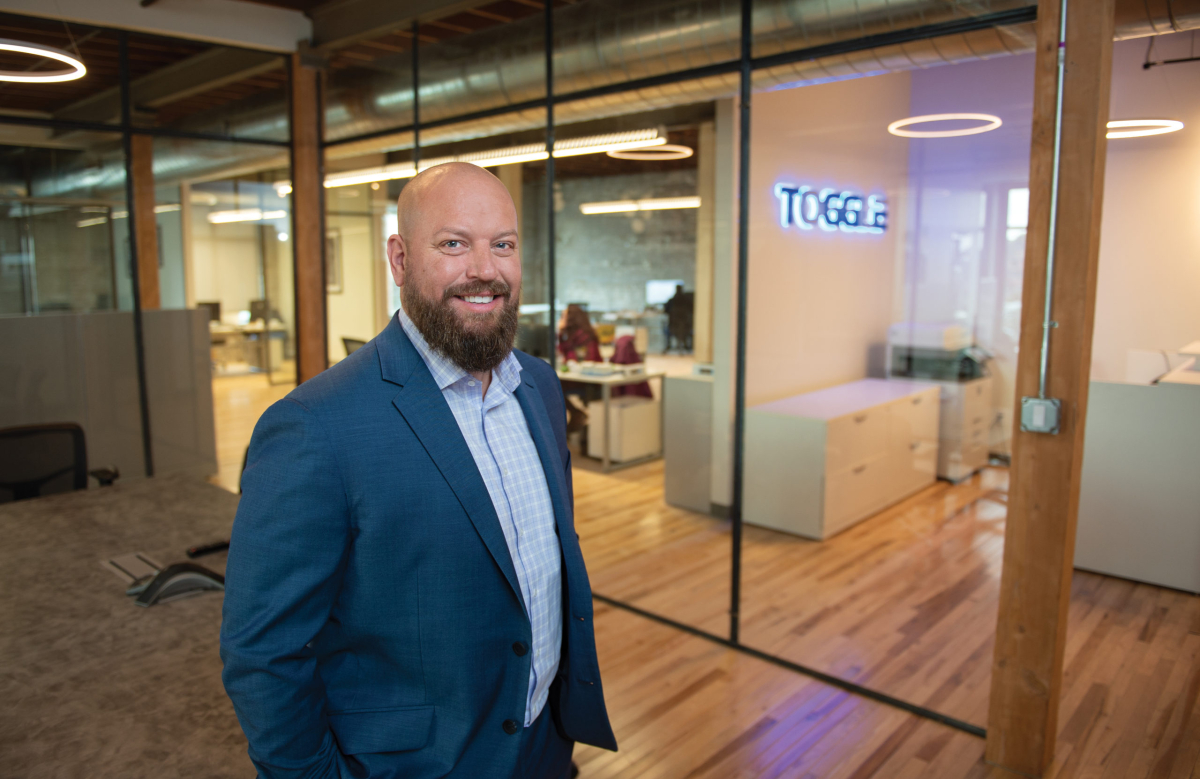 Original Article here – https://innovationia.com/2021/11/04/toggle-aims-to-build-a-more-efficient-supply-chain-focused-on-independent-trucking/
‍
TOGGLE AIMS TO BUILD A MORE EFFICIENT SUPPLY CHAIN FOCUSED ON INDEPENDENT TRUCKING
FOUNDER'S LONG-TERM GOAL IS TO CREATE A NEW DES MOINES-BASED FREIGHT HUB
Jeremy Spillman has a vision for using blockchain technology and "smart contracts" to bring trucking and the logistics industry into the 21st century.

His Des Moines-based startup company, Toggle Inc., is currently conducting a private beta test of its new blockchain-driven digital freight management platform.

Toggle's team of innovators has built a new type of end-to-end supply chain management system that aims to automate many of the current manual, labor-intensive processes used in the shipping industry. The startup recently completed a seed funding round in which it raised $1.6 million, which the company will use to fuel a beta test with dozens of independent trucking companies and about 50 shippers across the country.

Although the company will begin as a software-as-a-service business, Toggle's longer-range goal is to build its own freight terminal to serve independent truckers in Des Moines. Using the Toggle platform, the independents will be able to work together to connect regional runs into seamless long-haul loads.

Spillman, who most recently worked in the commercial real estate industry for JLL and NAI Optimum, spent much of his early career in the logistics business, working his way up in operations management with UPS. In 2019 he started his own commercial real estate firm, Capstone Real Estate. He formulated the concept for Toggle in 2017, and has since built a team of other transportation and logistics experts to develop it.

While the venture predates the pandemic, the historic global supply chain disruptions that the pandemic has triggered make Toggle's value proposition extremely compelling, Spillman said.

"We couldn't have picked a better time to bring this to the market," he said. "This is stuff we've been trying to explain for the last couple years to folks, and then the pandemic happened."

In February, President Joe Biden signed an executive order directing a whole-of-government approach to addressing supply chain vulnerabilities and finding ways to address bottlenecks and shortages, which are now threatening to prevent goods from reaching retailers' shelves in time for the critical holiday shopping season. Spillman says Toggle's approach could help address some of the inefficiencies built into the logistics system.

On a broad scale, Toggle aims to create an overall better environment that can address the industry's chronic driver shortage and help alleviate the feast-or-famine pendulum between freight brokers and carriers. Toggle's business model is focused on small independent/contract carriers that operate one to six trucks, which make up about 90% of the trucking population, he said.

"Right now freight brokers are kind of the gatekeepers, so when there's not much freight to haul, they'll hand-select their carriers that they like using. But they also tend to gouge, so they'll take more of that percentage in bad times because that's when they make the money.

"In good times like we're seeing now, truck drivers are making money and freight brokers don't have a lot of negotiating power because there's so much freight out there. … What we would like to do is change that cat-and-mouse game that goes back and forth and ultimately drive the cost down for the entire market."

The software platform will provide data-rich transparency to companies shipping freight, anticipating and adjusting route plans to tighten arrival window accuracy. Increased efficiency also aims to reduce fuel costs, waste and carbon emissions. Toggle's technology also provides real-time quotes, eliminating needless negotiation for both parties.

A key to Toggle's business model is its use of smart contracts, a particular type of blockchain technology.

"Smart contracts allowed us to use multiple independents to break up that long-haul run into regional runs. So that's really where the first leg of it started to come about. … Blockchain smart contracts allow us to do things that create that secure environment."

Current freight management systems are based on models developed in the 1950s and 1960s, he said, which makes it very labor-intensive. "You have a huge human capital component to be able to drive a lot of the processes, and it's very manual in orientation. The technology to automate a lot of those processes really just wasn't around until the last five years."

Organized as a C corporation, Toggle has seven investors on its board currently. The company is actively speaking with four venture capital firms — two located in Iowa and two on the coasts — as a potential option for a series A funding round late next year, Spillman said. "We will either go down that road with a venture capital partner or private equity firm, or we may continue just raising local and regional monies here for the time being," he said.

Toggle's goal is to have its proof of concept in hand by completing its beta product testing by January and expects to undertake a full market rollout by the end of the second quarter of 2022.